Crowdsourcing Week in Sweden
Made for Sharing
More than any previous generation, the millennials, born between 1980 and 1994, are attracted to impact investment. They want to invest with a good conscience. As they are coming of age and looking into their financial futures, they are creating new economic concepts. Such as crowdsourcing.
Sabine Froning and Niels Reise have travelled to Lulea and Vuollerim, close to the Arctic Circle to learn more about it. Coming back, this is what they told their colleague Ivo Banek about their impressions from the Arctic Summit of the Crowdsourcing Week.
20. April 2017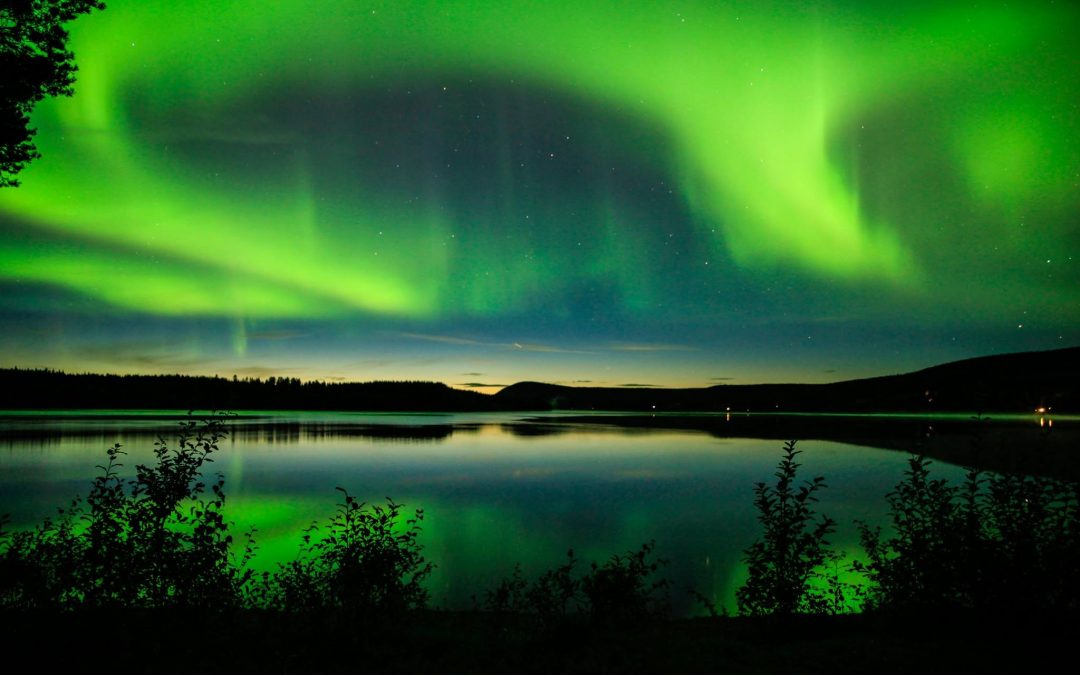 Nordic lights in Vuollerim / Photo: Pia Ulvebrink
Ivo: First things first – where and what are Luleå and Vuollerim?
Niels: Lulea is the largest city in the very North of Sweden, close to the polar circle. Previously mainly harboring heavy steel industry, it has a literally mushrooming technical university and is the hub of Sweden's hydropower industry, attracting many international businesses that are looking for green energy and cold climate. But Sabine, you spent more time in Vuollerim than I did, maybe you can answer that one.
Sabine: Vuollerim is an even smaller place, even further up north in Swedish lapland, with only 800 inhabitants. Nevertheless, you can call it the capital of shared economy, because those 800 people have started no less than 60 businesses, 40 non profit organizations and 7 co-owned companies in order to revitalize the economic and cultural life in the village.
Ivo: How does that work?
Sabine: For example, the hotel in Vuollerim is co-owned by almost 160 people. Even the school, which had been closed down by the authorities due to the low number of children, has been re-opened and is now run by the villagers. Thereby they keep their community attractive for families with children, who would otherwise move to the nearest city. And with this and other crowdsourced initiatives, they also create local jobs.
Ivo: Back to the conference – Niels, what is so special about the idea of crowdsourcing that it made you travel all the way to Luleå?
Niels: Actually, participants and speakers came from many countries, even India, to Luleå. They had very diverse backgrounds and motives. But all had in common that they were looking for new ways to start businesses and ideas that are seemingly more remote from where money normally wants to go.
Ivo: Where does money normally "want to go"? And in what way does crowdsourcing change that?
Niels: Take the school in Vuollerim: The number of pupils was decreasing, the school was to be closed, pupils would have had to travel long distance to larger towns with larger schools. It's all about scale advantages. It is the same equation as with small shops being eaten up by larger shopping malls. That's what happens when you follow the traditional path of money. In the end, this kind of rational wipes out the country side. Money and a purely business administration view on society planning lead to the same result. If people want to change that, they have to come up with ways of funding that are independent of this kind of rational.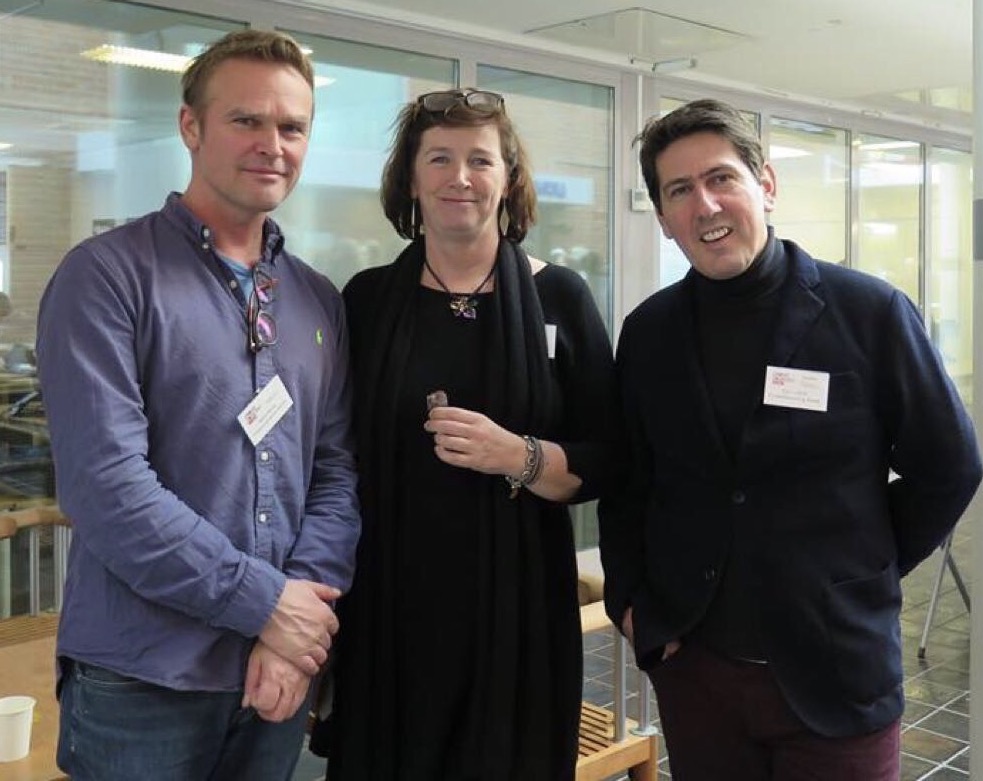 Niels Reise, Sabine Froning and the founder of Crowdsourcing Week, Epi Ludvik Nekaj
Sabine: I agree, and it's certainly not only about the money – as you've already said with regard to the view of authorities. Value creation is one thing, mindset and letting everyone participate in decision-making processes is probably an even more important aspect of the crowdsourcing value chain. Ultimately it is about creating a quality economy that delivers on the common good rather than on exclusively financial profits for individual investors or corporations.
Giving back power to the people
Niels: During the conference, local politicians as Luleå's mayor Niklas Nordström showed a lot of interest in the concept of crowdsourcing. I was almost a little surprised to see that.
Sabine: I wasn't! Not only is Luleå a remote place that really has to find ways to compete with the centers of Swedish economy with more than rural funding by the government. But a modern politician also wants to engage and empower citizens. Because what people want is to take an active part in developing the community, not just vote every now and then. Politicians who understand this are more popular. Anne Hidalgo, the Mayor of Paris, is a perfect example.
Niels: Yes, her ideas how to engage Parisians in making the city both more livable and even more attractive to tourists are considered as pioneering and are now replicated in cities all over the world. Crowdsourcing has almost become sort of a trademark for her.
Sabine: Even more, she has created a participatory budget of five per cent of the townhall's total budget, giving Parisians the possibility to vote online on which project they want to see realised. One of the most central highways was turned into "Paris plages" – "Paris beaches" – during summer, providing recreation space for both inhabitants who stay at home and tourists. And when there is an issue with children, she invites kids to contribute to solving it. So, seeing that the city's slogan for its application for the Olympics 2024 is "Made for sharing", it could be for real.
Niels: That is maybe the most important aspect: it must be for real, otherwise people will feel used and turn away quickly
Sabine: At least the group of very engaged students from the University of Uppsala whom we met at the conference were very clear about this. The younger generation often feels cheated by the political and corporate establishment. They really underline the ethical dimension of crowdsourcing.

Crowdsourcing close to the Polar Circle
Picking the brains of the customers   
Ivo: What does that mean for traditional businesses and their communication?
Niels:  Tech companies and startups are of course no stranger to crowdsourcing, and try to make their customers happy. Already in 2012, Apple for example created an online forum called the Apple Support Community where customers can go online and post their software and hardware issues to the community. Members of the community then respond with options, effectively crowdsourcing solutions and fixes. So, Apple delivers a form of both crowdsourced service and customer self-service.
Ivo: Sounds like a good deal for both sides. But, ok, that's the tech industry.
Sabine: In Luleå we have heard about other examples like Uniti and Lego who pick the brains of their customers to accelerate and broaden innovation. And even the NASA has recently turned to the crowd for innovative ideas
Niels: Traditional industries are often stuck in old ways of thinking, so crowdsourcing is an excellent method for them to break up old patterns. Unless they view it as just another way of financing and advancing the company's profits only. As professor Anna Ståhlbröst pointed out in one of the presentations, shared platforms such as Uber or AirBnB are not good per se. To be credible, they need to prove that what they are doing is not just another form of exploitation or tax evasion.
Sabine: That's why, personally, I prefer the term "community" rather than the anonymous "crowd". And I agree: if "sharing" is the new paradigm, it's all about attitude. Traditional businesses can learn a lot from cooperatives. At the conference, a representative of an association that promotes and supports Swedish cooperatives described it like this: "Even if you are the boss, you are not the boss, because you must always make sure you have listened to and understood everyone who has a genuine and justified interest in the matter."
That's what the sharing economy all comes down to. And what not only the millennials are looking for.