Report on District Heating in the UK
Winning Hearts and Minds
It's a dilemma: While the UK government wants to promote District Heating as a means to reach the country's climate targets, the technology is met by reservations. Research from Communication Works together with the Association for Decentralised Energy, ADE, provides insights on how to make District Heating more popular. Now the report is out.
29. August 2017
How to overcome reservations against District Heating in the UK – read our report with insights from a scenario-driven stakeholder analysis: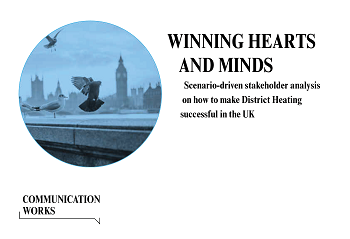 The results will also be presented at the conference Heat and Decentralised Energy on 30 November 2017 in London. Sabine Froning, Managing Partner at Communication Works, will chair a session with the title "Understanding what our customers want".
And here you find an interview on the topic with Sabine Froning.