Why diversity matters
No Country for Old Men
All-male panels continue mushrooming at small and large events. This year's Day for Women Rights was not the first time the issue made headlines. Accompanied by a wealth of photos that were surprisingly resembling each other. Depending on the author, commented with humour, anger or cynism.
6. April 2017
The organisation EU Panel Watch has counted them: Only one speaker out of four in Brussels events is a woman. 21% of all public debates take place exclusively among men. The worst performers? The energy, environment and transport sectors. The most prominent organiser? The European Commission. Of all days, Gunther Oettinger had chosen the International Day of Women's Rights to put three men and just one woman on stage in a conference entitled Women@work. Countless other public and private organisations regularly make the same mistake.
But why actually is it a mistake? Which messages do organisers convey by featuring only men on a panel? Here is why you should you care:
1. We are only interested in one perspective
When putting only men on stage, you inevitably make the audience understand that you do not care about giving women a voice and hearing their views. In other words: We do not care about equal rights. Maybe 20 years ago this was more or less justifiable as the absolute majority of management positions were reserved for white men of a certain age. Today this is an abosolute no go. Or would anyone still want to pretend that it is not possible to find women with the right competence?
2. We are not interested in young talents
All male panels do not only annoy women in the audience and thereby scare away half of the talent pool. If you persist in organising them, you make it very clear that your sector or the culture of your company has not landed in the 21st century yet.
It is no coincidence that nowadays numerous men, as for example Owen Barder, the European Director of the Center for Global Development, put their weight behind campaigns against the stereotype. Also, projects like "Stemette" which specifically target and promote young female talents in natural science and engineering are being supported by men in the tech sectors not least because diversity and creativity are intimately linked.
3. We do not need female support
To make it short: if you think like that, you're on the wrong track. As citizens and politicians women influence public opinion as much as men. In the end it can always be a woman who as a Mayor, Minister, Member of Parliament or campaign leader has the decisive vote on causes which are highly important for your company. If you had invited her or one of her peers, maybe she would have highlighted an important aspect in the debate or asked a crucial question. Now, she might be missing the response to exactly that question in order to understand your point of view.
But couldn't all-male panels also be attractive for a female audience? Unless there are absolute stars on the scene, the answer is no. And even then, a good mix usually makes any debate more captivating.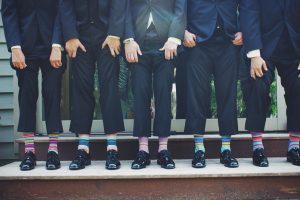 Diversity – colourful socks alone do not do the job / Photo: Pixabay
If you do not want to fall into the trap of all-male panels, you should follow (at least) these three recommendations:
1. If you are the one who is responsible for the organisation of a conference: Make sure you get the right balance between male and female presenters. You can't think of a competent woman for a particular area? Think twice! And/or consult one of the meanwhile many databases. Below you find a short overview. And the growfunding-campaign for the "Brussels Binder" looks forward to receive your support.
2. You are invited as a speaker? Let the organiser know that you only want to participate if you do not find yourself on stage in the company of men only. The UN organisation "Global Compact" has already committed itself to do this. There are many initiatives at national and international level which give you the possibility to do the same. Set an example!
3. If you are interested in participating in a conference, have a close look at the programme before you register. All-male panels? Opt against boredom and do not attend. Studies confirm that homogeneous groups are more inclined to take wrong decisions. So it's not just about a nice gesture. It really isn't worth it.
If you disregard these recommendations, chances are big that you will find yourself portrayed on websites such as allmalepanels.tumblr.com.  You will be welcomed "Congrats! You have an all-male panel" and awarded a David-Hasselhoff-stamp. He is the face of the campaign and gives you a thumbs up. "Oh, that's cool", you may think, because you were a big fan of Baywatch at the time. But your daughter is likely to find it embarrassing in the best case.
Text: Sabine Froning
EU Panel Watch Monitoring Report
Growfunding Brussels Binder
The pledge