World Sustainable Energy Days 2019
Clean Energy around the Globe
"Every year during a few days, Wels is the World capital of sustainable energy", said Markus Achleitner, Minister of Economy of Upper Austria, when opening this year's World Sustainable Energy Days. And rightly so: Wels may be a small town, but for many years already it keeps pushing the limits of the energy transition on a global scale.
13. March 2019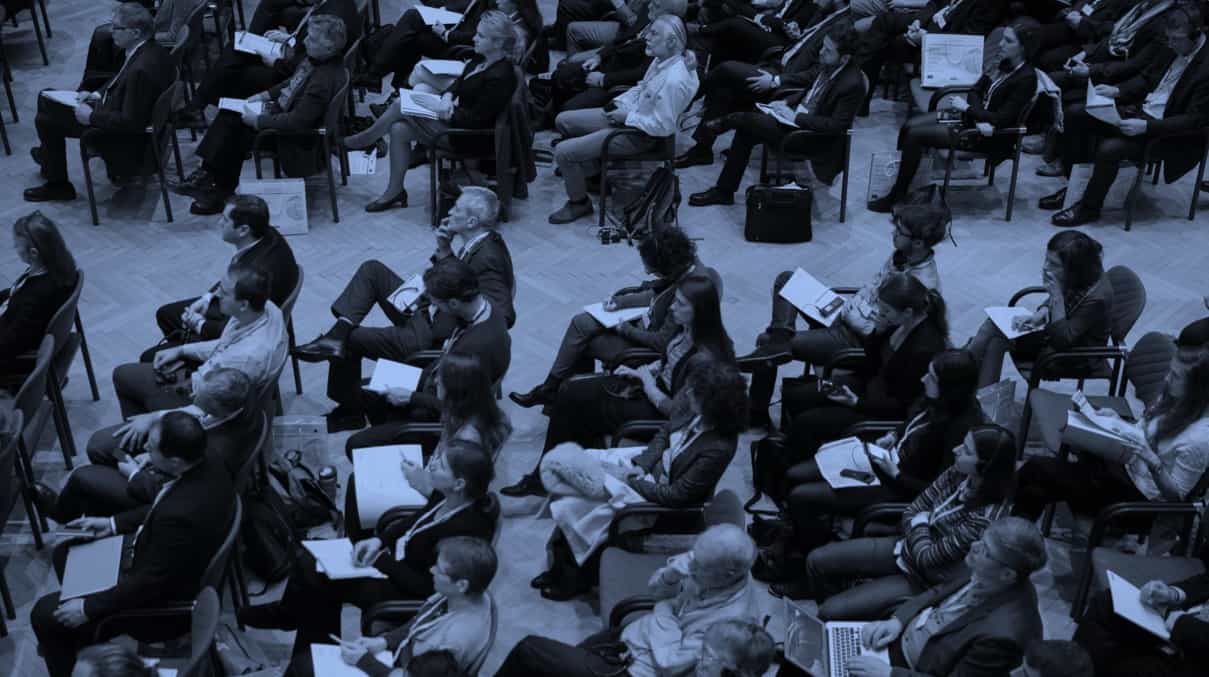 The magic of diversity and expertise
More than a conference, the World Sustainable Energy Days, in short WSED, are an annual reunion of all those who believe that energy efficiency and renewable energies do not only make sense in terms of climate protection, but also are important motors for jobs and the economy.
Those who look for celebrities on the program would have been disappointed: No Greta Thunberg, no Leonardo di Caprio, no Michael Bloomberg. No prestigious surroundings either.
And still, as a participant one gets that feeling of luxury: The luxury to be part of an incredibly diverse community of experts with one and the same goal: inspire and learn from each other. The luxury to feel that with these many new technologies and efforts around the globe, the transition could happen faster than we dare to imagine. The luxury to meet a whole new generation of energy researchers who excel in their disciplines and are eager to challenge old ways of thinking. The luxury to meet new colleagues who become friends.
No wonder that many participants do not only come back once or twice, but almost every year since the first edition of WSED more than 10 years ago. This year, almost 700 participants – researchers, practitioners, manufacturers, users and policymakers from more than 60 countries and all sectors – pilgrimaged to Upper Austria.
The energy transition rocks the economy
The region of Upper Austria is not only host to WSED with its 7 conferences, many interactive fora and a large tradefair, it also leads by example. "Upper Austria invests more than 600 million EUR in renewable energy every year", says, Gerhard Dell, Chairman of OÖ Energiesparverband. "As a result of our efforts in renewables and energy efficiency, our economy grows faster than our energy consumption". With a total surface of 1.3 million m2 or 0.9 m2 solar collectors per inhabitant, Upper Austria is also one of Austria's and Europe's solar regions. In other words: Upper Austria provides living proof that the energy transition does not hurt but, on the contrary, creates prosperity.
A message which should reassure all European governments. In the coming two years, they will have to implement the so-called "Clean Energy Package", adopted by the European Union in late 2018. The package consists, inter alia, of new rules to enhance energy efficiency and expand the use of renewable energies.
Karlis Goldstein of the European Commission presented the new legislation and the expected impact in the Energy Efficiency Policy conference. But while the ink of the package may not yet be dry, he warned the audience of being too satisfied with what has been achieved: "We have the new European targets. The Member States will have to put in place their ambition and deliver by 2030. But that will not be the end goal – the European Commission is also working on the long-term strategy to decarbonize the economy by 2050."
A global perspective on bioenergy
With 55.000 automatic biomass systems – 25.000 wood chip, 30.300 pellet boiler and 350 biomass district heating plants – Upper Austria has a reputation as the cradle of biomass energy. Oil heating is legally banned for all new buildings. But the region does not only apply sticks, but also carrots and tambourines. "We have new financial incentives to eliminate oil storage tanks, provide support to CHP and new hybrid solutions", explains Christiane Egger of OÖ Energiesparverband. "We also give the industry a lot of visibility and provide training."
Maria Michela Morese of the UN Global Bioenergy Partnership underlined that worldwide, "bioenergy presents excellent opportunities, but not without challenges". The partnership was established to implement the commitments taken by the G8 in 2005 to support "biomass and biofuels deployment, particularly in developing countries where biomass use is prevalent"
Conference presentations demonstrated that the search for ever new technical solutions to improve performance, minimize the environmental impact and broaden the range of secondary biomass sources such as agricultural waste, waste wood, chemical bioenergy carriers and anaerobic processes continues.
 Mission possible: energy efficiency in industry
A completely new format joined the conference family this year: The Industrial Efficiency Conference shed light on a sector "which was for a long time left to find its own solutions", as Rod Janssen of the EEIP underlined. Now it has become a priority for governments and the European Union. "The potential for cost-effective energy savings is considerable. Remains the challenge to find the right combination of policies and programmes to ensure that potential is achieved", Janssen continued.
According to Oleg Dzioubinski of UNECE, research shows that the current financial environment is generally not viewed as very favorable for investments in energy efficiency. The price of energy provides some but often insufficient incentive for improving energy efficiency. "And ultimately, what counts most is the impact energy efficiency on the quality of products and the core business", concludes Dzioubinski.
For Peter Radgen of the Institute for Energy Economics and Rational Use of Energy, Germany, "Cost-savings are only the tip of the iceberg of the many benefits companies can reap from energy efficiency. What you see is far less than what you get". Francisco Puente of Escan energy consulting advised to take a different approach depending on his speaking partners: "Board members, financial, marketing or operation directors all have different priorities that need to be taken into account when you talk to them."
For energy-intensive industries such as the steel industry, there are still more trivial concerns than financial and motivational aspects. Technological breakthroughs are required. "Green hydrogen", said Josef Prammer of voestalpine, can be a solution, but it is a very challenging one.  We will need huge amounts of green electricity". On the good news side, Thomas Nowak of the European Heat Pump Association explained technical advancements in the heat pump industry. "They can now also cover temperature needs in the range of 100 to 150 degrees."
The race to 100% electric transport
Great progress in technology, markets and policies was presented in the Smart E-mobility conference. In Austria, 5000 publicly accessible charging points already exist. To grow the network further, a new federal funding programme with 46 million was launched on the day of the conference.
In China, the globally leading market, e-mobility is literally booming. The Hanan province foresees to convert all transport from fossil fuels to electricity as soon as in 2030. When prices fall, markets soar. "Technology progress and cost reductions have made e-mobility in China more convenient and accessible. On the regulatory side, subsidies and quota have been key", explained Jian Liu of the Renewable Energy Institute. In his view, it is important to work on the whole system: "Electric cars will become very important actors in the electricity market. Soon, vehicle storage will become 4 times more important than hydro pump storage in China", he explained.
Yet, he came not only to share experiences but also to learn. "When we understand the new technologies and what is happening in other markets, we can better forecast developments."
And the next stop in e-mobility? "Electrification and automation have a great synergy potential. The sharing economy plays a catalyzing role to fully use it", predicts Gereon Meyer of VDI.VDE.IT. He adds with a twinkle in his eye "And of course you'll get your personal flying carpet"
Glacier roads and other adventures
An already well-known ritual and highlight at the conference is the arrival of the Dutch e-mobility delegation. In the tradition of Erwin George "Cannon Ball" Baker, famous for his record-setting point-to-point drives, 7 teams with electric cars with a range of at least 400 km such as the Tesla X and Model 3, Hyundai Kona, Kia E-Niro, Jaguar I-Pace, and the Opel Ampera E drove more than 1000 km from the Netherlands to Wels – including on adventurous glacier roads.
Energy future force
To understand what the future might bring, there is nothing better than to listen to the next generation. 90 papers from over 36 countries were submitted to the Call for Papers inviting young researchers from around the world to submit their work on biomass or energy efficiency. A scientific committee selected submissions for oral or poster presentation. The work was presented in two full-house sessions, Biomass and Energy Efficiency.
Murke's Collected Silences
"Silences," said Murke, "I collect silences… When I have to cut tapes, in places where the speakers sometimes pause for a moment… I don't throw that away, I collect it". When Heinrich Böll wrote these lines, he did not exactly think of energy efficiency.
But young researcher Colin Nolden of Bristol University sees an analogy. Silence, for him, is the absence of fossil fuel being burnt through energy efficiency improvements and carbon savings. The collection of silences – energy demand and carbon emission reductions – is an issue of property rights and transaction costs. For his paper "The role of entrepreneurs in assetising energy efficiency and carbon emission reduction property rights" he was awarded Best Young Researcher in the category energy efficiency.
In the category biomass, Rita Sturmlechner received the Best Young Researcher award for her paper "Real-life emissions of domestic wood heating appliances" which outlines the results of a project aiming at better understanding and eliminating the gaps between official test type emissions and operational results in field tests.
Inspiration rules
According to Prof. Nandar Kumar Janardhanan of Jawaharlal Nehru University, the European Eco-labelling system has been a great inspiration also to India.
Indonesian Albert Andrian of Saudi Arabian company Sadara, came to better understand the European model of energy services companies and find new partners. "Saudi Arabia is rich in hydrocarbons but that is not the future anymore. We need to empower industry and residents alike to be energy-efficient", he says.
Others, like Xavier Duret from Resolve have identified new solutions for bioenergy production for which they want to find customers.
Young researchers from all over the world seized the opportunity to grow their personal international network.
The World Sustainable Energy Days 2019 showed: What works in one country, on one continent, finds an echo in other countries, on other continents.
WSED next edition
The World Sustainable Energy Days 2020 take place from 4 to 6 March in Wels. The call for papers closes on 10 October 2019.